Feel Flows - The Sunflower & Surf's Up Sessions
1969-1971
Par Charlie Dontsurf
Le tant attendu coffret Feel Flows - The Sunflower & Surf's Up Sessions, 1969-1971 est sorti le 27 août 2021 et une semaine plus tard pour la pièce maîtresse, la boxset 5 cd.
Pas moins de 5 versions différentes ont été mises en vente : le coffret en lui-même de 5 cd en format livre-album, une édition 4 vinyles (une standard en vinyle noir et une limitée en vinyle couleurs jaune et bleu), une édition double-vinyle, une autre double-cd et, enfin, la version numérique.
L'objet explore en profondeur ce qui peut être considéré comme la période la plus aventureuse et expérimentale de la longue histoire des Beach Boys, entre 1969 et 1971, et a comme points de repère les deux albums Sunflower (1970) et Surf's Up (1971). Quel que soit le format retenu, ils sont présents dans une version remastérisée en 2019.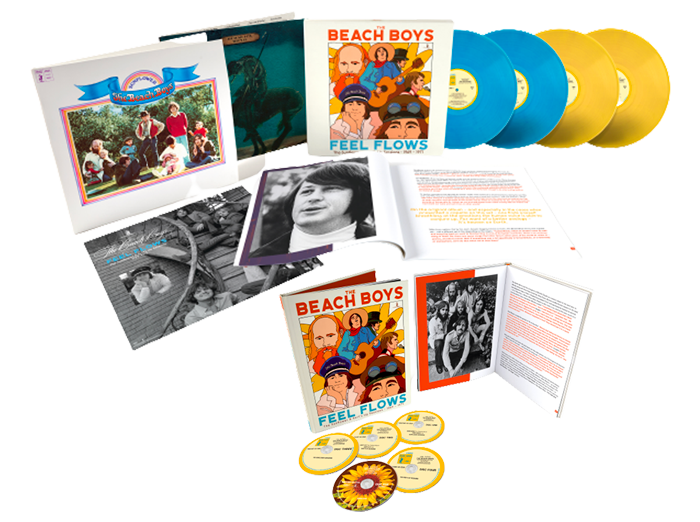 Le coffret de 5 cd contient 133 morceaux et est gorgé d'inédits, de prises ou mixages alternatifs et d'enregistrements live.
Le premier cd propose l'album Sunflower, 6 enregistrements live et 8 titres en bonus dont un nouveau mixage stéréo de Cotton Fields réalisé cette année et les versions originales de 1969 de Break Away et Loop de Loop.
Le deuxième reprend le même principe avec Surf's Up!, 5 enregistrements live l'illustrant et 8 bonus dont les officiellement inédits Big Sur, Sweet And Bitter et My Solution.
Le troisième s'attaque aux Sunflower Sessions avec, comme à l'accoutumée maintenant, des versions "a-cappela", "backing-track" et autres mixages alternatifs. Le quatrième cd fait la même chose avec les sessions de Surf's Up! mais présente aussi une version longue de (Wouldn't It Be Nice To) Live Again de Dennis et une autre, avec des paroles différentes, de Til I Die. Il propose également de vrais inédits avec Baby Baby, Awake et It's A New Day
Le cinquième cd est présenté comme un "bonus-disc" et est le royaume des versions alternatives et des démos. Il comprend pas moins de 4 inédits, Before, Behold The Night, Hawaiian Dream et It's Natural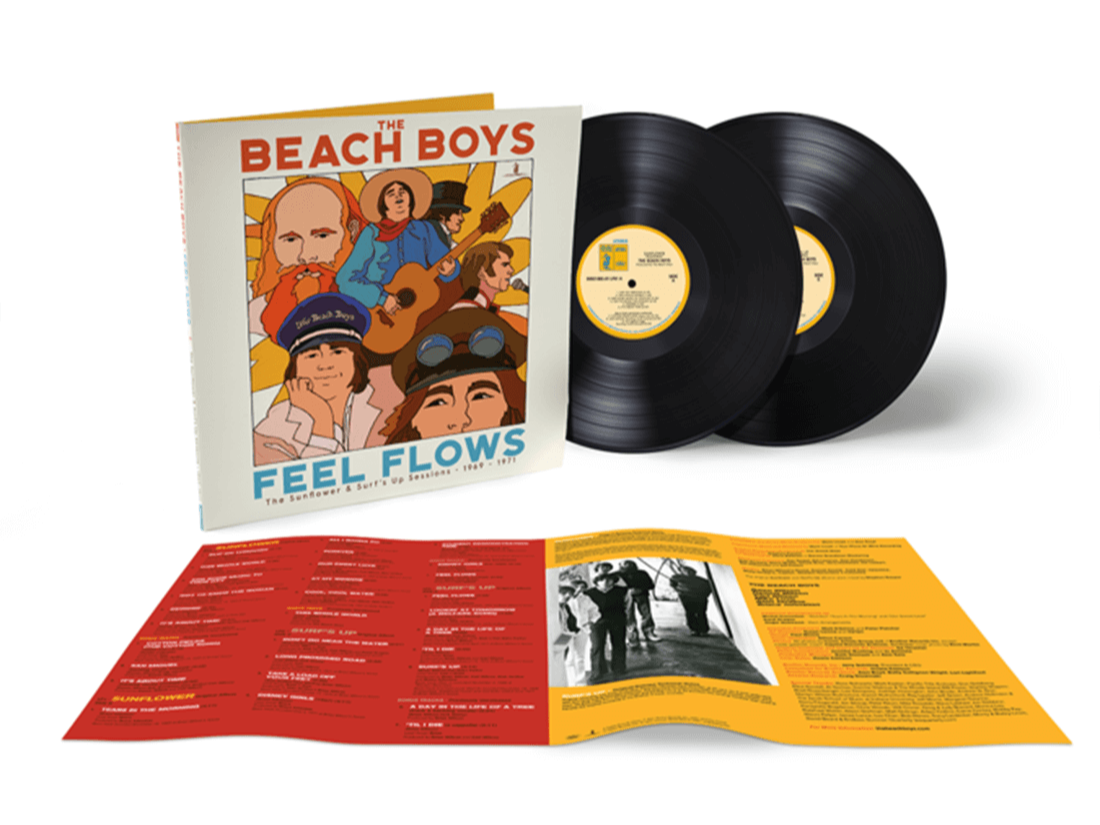 Les autres versions, vinyles ou cd, sont bien évidemment moins complètes. Le double-cd comporte 54 titres, le quadruple vinyle 64 alors que le double n'en a que 30. Au-delà de ça, des variations dans certains titres proposés, assez peu finalement, pourraient pousser le collectionneur à acheter les différentes versions, en dehors du besoin compulsif de tout posséder (voir plus bas).
Ainsi, la version longue de (Wouldn't It Be Nice To) Live Again (6:50) ne se retrouve pas partout. Elle proposée en version raccourcie (4:35) sur le double cd et le quadruple vinyle, indiquée respectivement "extended 2019" sur le premier et "2019 mix" sur le second. Gageons que ces versions ne soient pas bien différentes de celle présente sur le coffret Made In California de 2013. D'autres titres comme Sweet and Bitter ou Awake apparaissent également en version plus courte sur ces mêmes supports que sur le coffret 5 cd. Ces trois titres sont absents de la version double vinyle.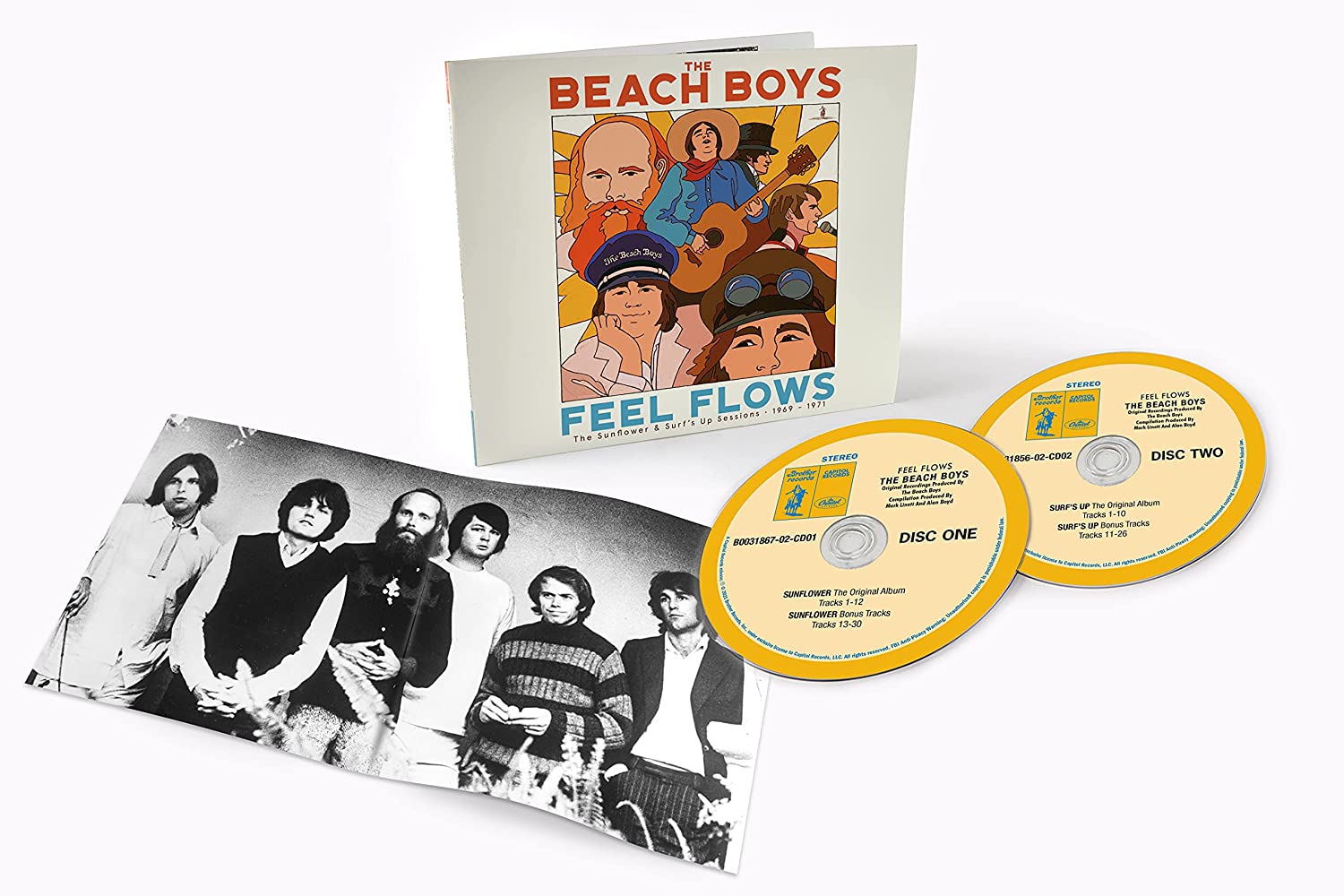 L'ensemble est produit par les habituels Mark Linett et Alan Boyd. Un livret illustré de 48 pages accompagne la version coffret. Les autres éditions en ont une version adaptée.
Trois liens pour en savoir un peu plus (mais en anglais) ; le très bon The Second Disc, qui nous a bien aidés pour cet article, le Rolling Stone américain qui sélectionne les 10 moments à retenir de l'ensemble et, bien sûr, l'éternel Wikipedia.
Les inédits, les vrais ...
A propos de choses à retenir, le spécialiste des enregistrements des Beach Boys, Andrew G. Doe a dressé la liste des "vrais" inédits, en dehors des prises alternatives, mixages différents ou titres live. Elle est composée de 16 morceaux en tout, la moitié n'ayant jamais circulé même sur des disques pirates (en gras) :

Big Sur (2:35)
It's A New Day (2:20)
Seasons In The Sun (3:26)
Old Movie (Cuddle Up) (3:40)
Behold The Night (2:26)
My Solution (3:43)
Sweet And Bitter (2:33)
Medley: All Of My Love / Ecology (5:06)
Before (2:25)
You Never Give Me Your Money (0:40)
Hawaiian Dream (4:34)
Medley: Happy Birthday, Brian / God Only Knows (2.46)
I've Got A Friend (2:26)
It's Natural (2:35)
Awake (3:44)
Baby Baby (3:13)
Doe ajoute sans trop hésiter deux démos de titres déjà connus à cette liste (Til I Die & Where Is She), deux démos qui, comme le medley Happy Birthday, Brian/God Only Knows, n'ont jamais circulé.
Pour être complet, Gérard Hubert, le grand spécialiste français des Beach Boys, ajoute également la version avec paroles différentes de Til I Die et la version alternative de This Whole World.
Les titres en public
Les notes de pochette des différents livrets ne regorgent pas de tant d'informations que ça. En tout cas, pas toujours celles qu'attend le fan avide. Il en est ainsi des enregistrements live, ici détaillés :
This Whole World (Live 1988), 19 juin 1988 – Groton, Connecticut
Add Some Music To Your Day (Live 1993), 26 novembre 1993 – New York City
Susie Cincinnati (Live 1976), 3 juillet 1976 – Anaheim, California
Back Home (Live 1976), 3 juillet 1976 – Anaheim, California
It's About Time (Live 1971), 27 juin 1971 – Fillmore East
Riot In Cell Block 9 (Live 1970), 3 octobre 1970 - Big Sur Festival
Take a Load Off Your Feet (Live 1993), 26 novembre 1993 – New York City
Long Promised Road (Live 1972), 23 novembre1972 – Carnegie Hall
Disney Girls (Live 1982), 11 juin 1982 – Blossom Music Center
Surf's Up (Live 1973), 15 août 1973 – Chicago
Student Demonstration Time (Live 1971), 23 novembre 1972 – Carnegie Hall
Les versions différentes selon l'édition
Quelques différences ont été notées par des oreilles attentives pour un même titre selon le support sur lequel il est proposé.
San Miguel perd 14 secondes sur la version double-cd
Le mixage de Susie Cincinatti est différent dans la version boxset 5 cd. Le titre perd le bruit de moteur auto que l'on trouve historiquement et qui est bien présent sur le double-cd. C'est Al Jardine qui aurait demandé cette modification et elle expliquerait le décalage d'une semaine dans la sortie du coffret par rapport aux autres versions
I'm Going your Way gagne 14 secondes de conversation de studio au début du titre dans la boxset 5 cd
Soulful Old Man Sunshine perd 12 secondes dans sa version double-cd
C'est 16 secondes que perd All I Wanna Do (A Capella) dans la version double-cd. Il y a un fondu sur le chant des Boys alors que le titre s'arrête à la fin du chant dans la boxset
Voir plus haut pour (Wouldn't It Be Nice To) Live Again
Début et fin très légèrement raccourcis pour Behold The Night dans le double-cd. Le titre perd 5 secondes au total
All of My Love/Ecology a 30 secondes de répétition au début du titre sur la version 5 cd alors que la section "run run river run" est deux fois plus longue que sur le double-cd. 50 secondes de plus en tout pour le coffret
Awake gagne 30 secondes de conversation de studio au début du titre dans la boxset 5 cd
Disney Girls (Live 1982) se termine avec Al Jardine remerciant Bruce Johnston dans la version 5 cd alors que le titre se termine avec un fondu avant sur le double-cd
Disney Girls (Backing Vocals Excerpt) est raccourci de moitié sur le double-cd. 16 secondes de plus sur le coffret pour le titre
Vinyle vs cd
Pour les albums en eux-même, Sunflower et Surf's Up, nous en arrivons à préférer les éditions sur cd. Le compilateur a en effet décidé d'ajouter des bonus tracks à la fin de chaque face des albums originaux. C'est assez perturbant, surtout quand il s'agit de "Backing Vocals Excerpt" de moins d'une minute. S'il est possible de comprendre la présence de Cotton Fields (Sunflower), après tout le titre était présent sur plusieurs éditions internationales dont la française, le reste vient casser un peu le charme initial. Il faut admettre que c'était le seul moyen de mettre des bonus sur la version double-vinyle. Peut-être qu'une réédition vinyle simple des deux albums dans leur version originale aurait pu être ajoutée à l'ensemble. Elle nous aurait permis de dépenser un peu plus de sous !
Le livret du coffret 5 cd
Le livret est décevant. Pas tant au niveau des choix photographiques que dans la présentation du texte signé Howie Edelson. L'essai n'est pas sans intérêt notamment dans la sélection de nombreux propos des intéressés mais le choix d'un caractère excessivement grand et de couleur rouge pour les citations, est surprenant. Tant de place perdue alors que manquent par ailleurs des informations précises sur chacun des titres. Une présentation morceau par morceau avec sessionographie aurait été plus qu'intéressante. Tant pis.
Une chronique en anglais sur The Second Disc
Dans la presse française et sur internet ...
Rock & Folk n°648, août 2021, le coffret en réédition du mois (Nicolas Ungemuth)
Rock & Folk n°650, octobre 2021, Feel Flows en édition double-vinyle (Eric Delsart)
Site Télérama, 30 août 2021, Quand les Beach Boys reprenaient la vague pour aborder le tournant des 70's (François Gorin (version pdf)
Libération, 13 septembre 2021, The Beach Boys, démos et merveilles (article paru sur le site du journal le 30 août 2021) (Christophe Conte)
L'Obs n° 2971, 30 septembre 2021, Retour de magie (François Armanet)
Site Marianne, 8 janvier 2022 , Pour le bonheur de redécouvrir les Beach Boys de 1970-1971 ! (Emmanuel Tellier)
Best Of
Le coffret est retenu par la Fnac dans Best Of, une sélection de 203 albums et coffrets en novembre 2021 (Collection Archives/GM Editions)