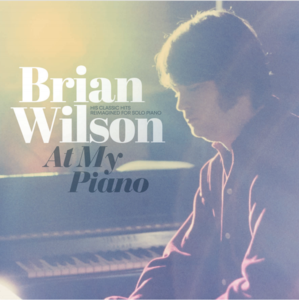 Comme l'indique la pochette, Brian Wilson revisite ses classiques, seul au piano et en version instrumentale. At My Piano est le titre d'un album de Brian WIlson paru chez Decca Records le 19 novembre 2021 en version cd et le 10 décembre de la même année en vinyle (pochette différente ci-contre).
Dans le dossier de presse, Brian Wilson raconte qu'il y avait un piano droit dans le salon de ses parents et qu'il en a joué tous les jours à partir de ses 12 ans. "Je n'avais jamais pris de leçon et j'étais complétement autodidacte". Le piano a toujours eu une part prépondérante dans sa vie. J'en joue que je sois triste ou heureux, indique t'il, j'aime en jouer devant les gens comme en solitaire. Le piano et la musique que j'ai créée ont probalement sauvé ma vie.
Les 15 titres repris figurent parmi les meilleurs de la carrière de Brian Wilson. On pourra toujours discuter ce choix mais un lourd coffret de plusieurs volumes n'aurait pas été suffisant pour se balader aux sommets de cette carrière. L'album Pet Sounds est bien évidemment présent avec 3 titres. En plus de Surf's Up, Smile a droit à une suite, Sketches of Smile avec Our Prayer/Heroes & Villains/Wonderful/Surf's Up. Un seul titre est extrait de la carrière solo, le désormais classique Love & Mercy qui conclut encore aujourd'hui chaque concert.
Plus surprenante mais pas moins intéressante est la présence de Mt Vernon Farewell adapté du conte musical Mount Vernon and Fairway qui avait eu bien du mal à trouver de la place sur l'album Holland.