Pet Sounds 50th (2016)
Pet Sounds Sessions (1997)
Par Charlie Dontsurf
2016 a vu Capitol fêter avec grandeur le 50ème anniversaire du chef-d'oeuvre de Brian Wilson. Au programme, un coffret 4 cd et 1 blu-ray au contenu très proche des Pet Sounds Sessions sorties en 1997, une belle édition en double-cd et pour finir, deux vinyles, l'un présentant la version mono de l'album et l'autre une version stéréo.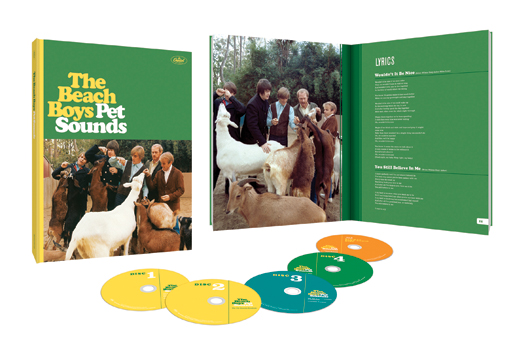 Nous allons parler ici du contenu des différentes éditions, pas des qualités sonores de telle ou telle version. Pour les deux éditions vinyles de ce 50ème anniversaire, au contenu classique, nous vous renvoyons sur ce même site vers la page principale consacrée à l'album.
Mono et stéréo
C'est la bande préparée par Carl Wilson en 1972 pour l'édition vinyle couplée à l'album Carl & The Passions, So Tough qui apparait avoir été utilisée pour la version mono de l'album présentée sur les différents formats. Pour la version stéréo, le mixage réalisé par Mark Linett en 1996 a été repris. Les deux versions ont été remastérisées.
2016 vs 1997
Très peu de différences entre ces deux coffrets en ce qui concerne les "sessions" en elles-mêmes. L'édition de 2016 propose 3 titres en plus,
I Know There's An Answer (Vocal session)
I Know There's An Answer (Alternate mix)
Good Vibrations (Master track with partial vocals)
mais un autre, très court, est propre à celle de 1997 :
Don't Talk (Put Your Head On My Shoulder) (Vocal Snippet)
La différence notoire au profit de l'édition la plus récente est la présence de 11 titres en public enregistrés entre 1966 et 1993, dont 4 versions de God Only Knows, chanson incontournable des concerts des Beach Boys et de Good Vibrations saisies en 1967.
L'autre avantage, essentiel, est de disposer de l'album complet en version instrumentale inédite. Pour tenter d'obtenir quelque chose d'approchant, il fallait parcourir les cd consacrés aux sessions dans le coffret de 1997 avec les Stereo backing tracks des titres de l'album. Ces derniers sont présents également, et heureusement, dans le coffret du 50ème anniversaire. Il faut néanmoins dire que cette nouvelle version instrumentale n'est disponible que sur le blu-ray du coffret.
Le blu-ray du coffret
Ce blu-ray n'est qu'audio. Aucune des vidéos présentes sur le dvd-audio de 2001 ou la réédition deluxe cd/dvd de 2016 n'est là. Le programme détaillé figure sur la droite de cette page mais énumérons quand même le contenu. Versions 5.1 Surround Mix 96 kHz/24bit, 2.0 Mono 192 kHz/24bit, 2.0 Stéréo 192 kHz/24bit, 2.0 Instrumental 192 kHz/24bit accompagnées par les bonus que l'on trouvait déjà sur le DVD-Audio de 2001 en version 5.1 Surround Mix 96 kHz/24bit et 2.0 Stéréo 192 kHz/24bit. Ouf ! Autant dire que la qualité sonore se veut meilleure que sur les précédents dvd.
La version double-cd
Le second volume de l'excellente édition en double-cd, sortie en même temps que le coffret, présente la fabuleuse version instrumentale inédite du blu-ray en compagnie des 11 titres live. Le premier disque comprend lui les versions mono et stéréo de l'album original. Nous pouvons juste regretter l'absence des bonus qui figurent sur le premier cd du coffret, tout particulièrement Hang On To Your Ego, un habitué des différentes éditions de l'album sur ce support.
L'excellent site The Second Disc passe en revue les différentes éditions du 50ème anniversaire de Pet Sounds (article paru en 2016).
Et lisez ci-dessous ce qu'en disait le bon Dr Faustroll la même année
"Pet Sounds 50th Anniversary" passé en revue
Par le Dr Faustroll
Tout a déjà été écrit sur Pet Sounds et on ne compte plus les parutions officielles ou non qui ont fleuri depuis la parution de l'album en 1966. Alors, quel est l'intérêt de cette énième édition en attendant sans doute celle du soixantième anniversaire ?
Déclinée en plusieurs formats (vinyle stéréo ou mono, double cd ou version collector en 4 cds + 1 blu-ray), elle peut sembler superflue et … elle l'est d'une certaine manière, surtout pour ceux qui possèdent déjà le coffret Pet Sounds Sessions de 1996. Nous nous concentrerons sur la version collector, la plus complète.
L'objet d'abord : un volume 32X25cm comprenant quatre cds et un blu-ray, agrémenté de nombreuses photos parfaitement reproduites, d'un texte de David Fricke replaçant l'œuvre dans son contexte, les lyrics, le détail des différents titres de l'album (musiciens, etc) : tout cela figurait déjà dans le coffret de 96 mais c'est ici reproduit en grand format donc plus lisible ;
Premier cd : l'album en versions stéréo et mono. La version stéréo est celle de 96, la version mono, elle, est inédite en cd et a été faite à partir de celle préparée pour le vinyle Capitol de 1972 qui avait vu la réédition de Pet Sounds couplé avec So Tough.
Les disques 2 et 3 seront les plus inutiles pour ceux qui possèdent le coffret de 96 car l'essentiel, à deux titres près, reprend ce qui y figurait déjà, que ce soient les extraits des sessions ou les « alternate versions ». Les deux inédits sont consacrés à I Know There's An Answer : une session vocale et un "alternate mix" que l'on connaissait déjà via les bootlegs.
Le disque 4 est scindé en deux parties, la plus intéressante étant la première : 10 titres extraits de concerts inédits officiellement avec, notamment, les premières interprétations de Wouldn't It Be Nice, Sloop John B. et God Only Knows extraits du concert du 22/10/1966, une autre version de God Only Knows en Jamaïque et dédiée à … Bob Marley en 1982, une version de Sloop par Brian en 89 au cours des Endless Summer Shows et deux titres du magnifique concert du 26/11/1993 prévu pour promouvoir la sortie du coffret Good Vibrations. Capitol possède donc les bandes ! Il serait pour le moins souhaitable que des publications officielles sortent puisque tout cela était déjà paru officieusement!! Une remarque quand même : aucune information sur les musiciens présents lors de ces différents concerts. D'ailleurs, globalement, les informations restent lacunaires. Le reste du cd reprend le « Stack-O-Vocals » du coffret de 96 plus un inédit total : une version de Good Vibrations (Master Track with Partial Vocal) dont je n'ai trouvé aucune trace dans les bootlegs.
Le Blu-Ray, enfin, présente les versions stéréo, mono et 5.1 de l'album (cette dernière avait fait l'objet d'une première édition lors du quarantième anniversaire pour un dvd-audio, mais celle du Blu-Ray est de meilleure qualité) ainsi qu'une version instrumentale magnifique et inédite.
En résumé, coffret indispensable pour le fan hardcore ; les autres peuvent se contenter de la version en double cd qui remplit déjà bien son rôle avec l'essentiel des inédits : les versions mono et instrumentales ainsi que les enregistrements Live.
Dans la presse française et sur internet ...
Voir la page du site consacrée à l'album original