Sail On Sailor • 1972
Par Charlie Dontsurf
Pour marquer le 60ème anniversaire du groupe (et renouveler les copyrights), ce coffret est paru le 2 décembre 2022. Comme son titre l'indique, il couvre l'activité musicale du groupe durant l'année 1972. Cela inclut deux albums, Carl & The Passion : So Tough et Holland. Si ce dernier est paru en 1973, il a bien été enregistré l'année d'avant.
Objets au pluriel en fait puisque la série Sail On Sailor comporte pas moins de 6 versions physiques différentes :
- Tout d'abord, le coffret 6 cd avec livret de 48 pages comprenant notes de pochette complètes et photos rares. 105 pistes en tout avec, outre les albums remastérisés et les morceaux de l'EP Mount Vernon And Fairy Taile, 80 titres jamais parus officiellement avec des outtakes, des extraits des sessions d'enregistrement, des versions a-capella et des backing-tracks, des titres live, des vrais inédits et les deux sets du fameux concert du 23 novembre 1972 au Carnegie Hall (Référence : 4585914).
- La version coffret vinyle comprend 5 albums avec un livret de 38 pages. Ce coffret comprend les 2 albums remastérisés, l'EP vinyle Mount Vernon reproduit à l'identique de l'original de 1973, les deux sets du concert du Carnegie Hall et 4 titres inédits. 53 titres seulement dont 30 inédits (4585900). Voir la vidéo promotionnelle de l'objet.
- Un double cd avec les 2 albums remastérisés, les titres de l'EP, Mount Vernon et 12 titres inédits (4585926).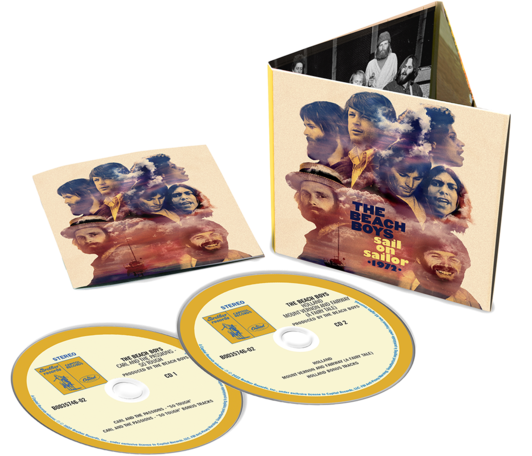 - Un double vinyle avec les deux albums remastérisés et la reproduction de l'EP original en vinyl mais sans titre inédit.
Il faut ajouter les deux exclusivités disponibles uniquement sur le site officiel des Beach Boys ou sur le site commercial d'Universal, The Sound of Vinyl.
- Tout d'abord, la version double vinyle augmentée d'une reproduction du livret promo de Holland (16 pages) (4810130).
- Enfin, une version augmentée du coffret 5 vinyles avec le livret promo et 4 lithographies exclusives (4585901).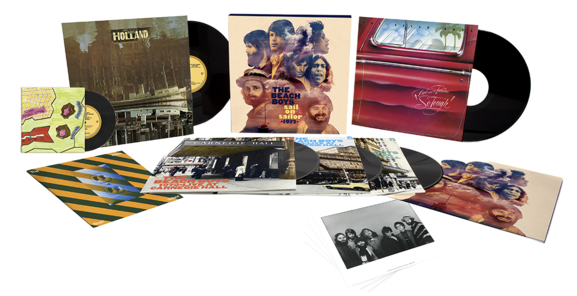 Notons que pour ces deux références, Universal France a été incapable d'honorer les commandes passées par les fans des mois avant la sortie. Incurie du label également pour la promo vers les médias, quasi inexistante.
Contenu détaillé de tout ça ci-contre. Pour un avis plus "musical", nous vous renvoyons vers les pages consacrés aux albums de ce site :
- Carl and The Passions - "So Tough"
- Holland
Les inédits, les vrais ... et les autres
Le spécialiste français des Beach Boys, Gérard Hubert a dressé la liste des inédits, en dehors des a Cappella mixes ou sections ou encore des versions track and backing vocals.
10 vrais inédits sont recensés :
The Road Not Taken (demo)
Hard Time
Carry Me Home
Out In The Country (2 versions)
Oh Sweet Something
Spark In The Dark
Rooftop Harry
Body Talk (Grease Job)
Little Child (Daddy dear)
Gimme Some Lovin'/I need Your Love (medley)
Gérard ajoute sans hésiter des versions alternatives significatives de titres déjà connus :

Cuddle Up (Alternate mix) : version initiale sans les arrangements de Darryl Dragon)
Make It Good (Alternate mix with intro)
All This Is That (a Cappella mix) : une strophe alternative
Beaks Of eagles (1973 Single Mix) : il n'était pas ou peu connu que ce titre avait été envisagé pour un single
Beaks Of eagle (2022 Edit) : Alan Jardine a supprimé la dernière strophe du poème pour rendre la saga plus fluide, enlevant ainsi de très beaux vers
We Got Love (2022 mix) : presque un "vrai" inédit, le titre est également présent dans un mix différent sur la réédition vinyle de "Holland" de chez Analogue Productions
Sail On Sailor (Songwriting session)
Susie Cincinatti (Holland home recording)
Pa Let Her Go out (Better Get Back In Bed) (Alternate version with intro)
I'm The Pied Pipper (Alternate take spoken section)
Mount Vernon And Fairway Theme / A Casual Look (Session excerpt)
Le livret des coffrets cd et vinyles
Le livret est réussi, bien mieux mis en page que celui du précédent coffret, Feel Flows. Le texte est encore une fois signé Howie Edelson avec toujours la mise en avant de citations des hommes impliqués. Toujours pas de sessionographie mais le site officiel a réparé l'affaire en en mettant une en ligne.
Pour en savoir plus (mais en anglais !)
Trois liens pour en savoir un peu plus ; une présentation générale comme le site The Second Disc sait très bien les faire, la page Wikipedia et surtout une chronique en anglais sur (encore) le site The Second Disc
Dans la presse française